Liftoff Herbalife
Liftoff Herbalife is formulated with caffeine that temporarily promotes alertness and focus. It is also made with vitamins that help the body metabolize carbohydrates, fats and proteins. Ginseng helps support cognitive function and reduce mental fatigue.*
*Liftoff® contains caffeine which helps you feel energized.
Details
Convenient, individually wrapped and pocket-sized
Effervescent tablet quickly dissolves in water
Available in Ignite-Me Orange, Lemon-Lime Blast
Key Benefits
Helps fight fatigue and temporarily helps you stay alert and focused
Specially formulated with a unique energy blend that includes panax ginseng, L-taurine, caffeine, guarana extract and inositol
Contains Vitamin C and energy-supporting B vitamins: B1, B2, B3, B5, B6, B7 and B12
Individually packaged tablets for on-the-go use
Choose your Flavor.
Usage – Liftoff Herbalife
Drop one tablet in 250 ml of water and drink after dissolved. Take no more than two tablets per day.
Fast Facts – Liftoff Herbalife
0 sugar, 0 calories, 1 carb
Individually packaged tablets for on-the-go lifestyles
NPN 80054499
Summary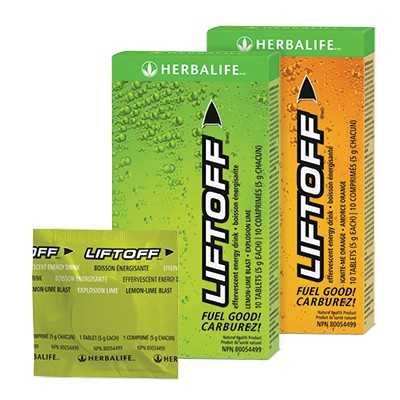 Brand Name
Product Name
Price
Product Availability