Personalized Protein Powder
Get more protein! Now you can get high-quality protein to help you reach your fitness and health goals.
Protein is vital to a healthy diet, as it's one of the essential building blocks for many cell components in your body. Protein helps satisfy hunger, build muscle tissue, maintain lean muscle mass and give you energy.
Key Benefits – Personalized Protein Powder
Helps build and maintain lean muscle mass
Fat-free protein supplement.
5 g of soy and whey protein, and all 9 essential amino acids
Package: 360gr.
Fast Facts – Personalized Protein Powder
Three teaspoons (one serving) supplies 5 g of protein.
Contains no carbohydrates, cholesterol, sugar or sweeteners.
Whey protein is a source of the amino acids cysteine and methionine, vital for muscle development.
In powder form.
Usage – Personalized Protein Powder
Take one to four servings (three teaspoons) daily. This plain, unsweetened formula can be added to your Formula 1 Meal Replacement Shake or stirred into other foods and beverages, including cereal, yoghurt, sauces and soups.
Summary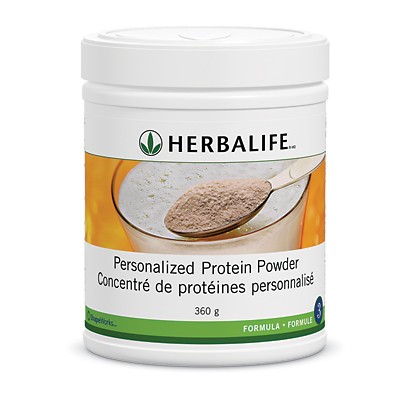 Brand Name
Product Name
Personalized Protein Powder
Price
Product Availability