RoseGuard Herbalife
Roseguard Herbalife has been specifically formulated with Vitamins A, C, and E to support the immune system.
Its components help protect cells from oxidative stress.
Key benefits – RoseGuard Herbalife
Contains turmeric, traditionally used as a liver protectant and to aid digestion.
Contains astragalus, traditionally used to help maintain a healthy immune system.
Vitamins A, C, and E for the maintenance of good health.
It is important to help our body fight free radicals, to do this we must take antioxidants in fruit and vegetables, unfortunately, however, our lifestyle often prevents us from escorting these nutrients enough.
Rosegard Herbalife is an antioxidant derived from the rosemary extract and other herbs that accelerate and regenerates the antioxidants we take. Its innovative formula is called a "cascading effect" because it is able to become a progressive set of active formulas that allows you to achieve more efficient and long-lasting results.
Rosemary has antioxidant properties, and the perfume also has a memory stimulant function, useful for those who need to concentrate on work or study. It does not end here, rosemary also has the property of promoting digestion, calming the nerves and relieving menstrual pain, it is also used in the cosmetic field as a hair conditioner and tonic for the skin.
Usage – RoseGuard Herbalife
Take one tablet orally twice daily with meals.
Fast Facts
In tablet form
60 tablets/bottle
Summary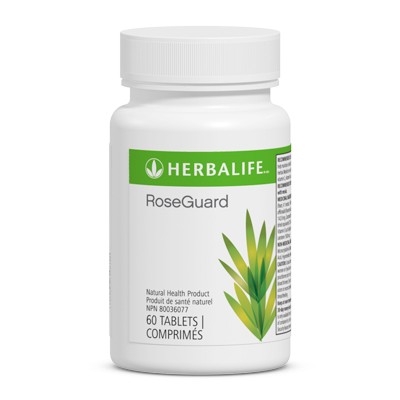 Brand Name
Product Name
Price
Product Availability